Found on January 27, 2015, Ningbo Hengzhou Trade Co., Ltd is an innovative retail chain company specialized in articles of daily use and cosmetics. With "M shopping" as the brand and established in Ningbo, the company is aimed at spreading Chinese quality goods all over the world.
Nowadays, people live a busy life, they are more eager to get completely relaxed and adjust spiritual space using simplicity and purity, it is a psychological state to get rid of tediousness and complexity and pursue simplicity and nature at the mercy of complementary consciousness. When a low-carbon, environmental and green life is advocated, simple, natural and fashionable articles of daily use become popular and well-received.
M shopping is originated from: planning out of dream and writing out of reality. M shopping is not only a span from complexity to simplicity but also a stage of fashion and nature. Tao Yuanming said: "trapped in a cage for a long time, finally I return to nature", which describes the yearning for purity and nature out of complicity. However, M shopping restores the true life, advocates nature and strives for the true and the beautiful.
In every corner of such a materialistic society, M shopping devotes to presenting elegance and abandoning complexity, offers practical, featured and superior products, integrates 5000 years' Chinese culture into products and spreads it all over the world, and enable customers to enjoy a quality life from simple and comfortable products.
Mission: realize Chinese dream, lead the trend;
Vision: become the first access of Chinese goods to the world;
Core value: integrity, happiness, fashion;
We work for ourselves and struggle for enterprise;
We hold the faith "every employee is obliged to provide customers with over-value services";
We encourage and appreciate each other and take "passion" as our teacher;
We are youths with enterprising spirit, family affection and passion!
If entry of famous brands and rise of global shopping and cross-border online shopping represent import, M shopping represents export.
As more and more overseas brands impact the Chinese market, more and more people ignore excellent Chinese goods and their highlights.
As the saying goes, "diamond is always shining", there aren't no excellent commodities but eyes to find beauty.
But I believe there is a platform which delivers Chinese quality goods and provides customers with quality goods. It's M shopping.
It provides quality goods at a favorable price and cooperates with you through joint operation, let's go to the world together.
In my world, each article has a story which always arouses our memories deep in the heart-pure, simple and beautiful moments.
I often go in and out a small store, where I can buy many general commodities with 1 Yuan of pocket money and wear a smile of satisfaction.
Peculiar new arrivals, smiling service staffs and a comfortable shopping environment give me the feeling of home……
I want to endow such lifeless articles with the right of speech and enable them to "tell" the warmth that I feel to everyone.
Brand of M shopping was established on January 27th
The first three self-operated stores of M shopping were opened on May 1
M shopping Shenjiamen Zhoushan store opening July 1
M shopping Xuzhou shop, Shaoxing intime store opening August 1
M shopping Bayannaoer Inner Mongolia opening December 1
First overseas store HD store opened in Burma December 25th
Tenth store opening December 30th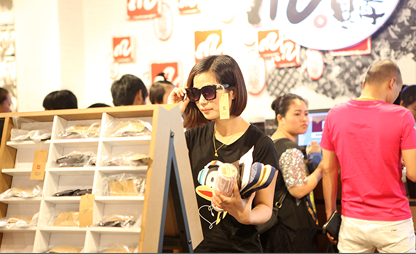 Burma to join the signing of the general agreement on behalf of the Burma January 15th
M shopping Hefei Anhui store opening January 31st
M shopping Huainan Anhui store opening February 15th
TK store opened in Burma March 19th
Inner Mongolia Chifeng purchase M shopping opened in Ningcheng County May 1st
M shopping Ninghai Xizi international store opened
MG store opened in Burma July 16th
M shopping Pizhou new store opening purchase center August 1st
Comprehensive investment began, the first store opened in the second generation of water
to upgrade the image of the store opened